Buzzards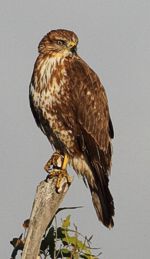 Craig Goodrum
Oliver Booysens
James Steel
Hazel

The Steppe Buzzard migrates all the way from northern Asia to spend the summer with us. They can often be seen thermalling and sloping in the area.
Eagles
Brett Lewis
Theo Wolthers
Aldo Vos


The Long Crested Eagle is a regular visitor to our little forest. When it's around we hear it's constant load cries from the treetops.
Hawks
Mike Vos
Ken Goodenough
Michelle Goodrum
Rodney Goodrum

We now have a breeding pair of Black Sparrowhawks in our forest. Unless it's breeding season when they call continually, they are very secretive and we only see them flying out of the forest early some mornings and back into the forest just before dark.
Kites
Peter Moore
Derek Marusich
Wolfgang Steffny
Gordon Browne

The Black Shouldered Kites are always around, expertly hovering into wind when they spot something interesting in the grass below them.
Falcons
The Amur Falcon is another migratory bird that flies in large numbers all the way from north of India. They can often be seen sitting in rows on our electricity and telephone wires in the area.